Peter Lupus made his debut on the CBS-TV's Mission Impossible (Saturdays, 8:30 p.m. Channel 2, 10) carrying two suitcases through a hotel lobby. So?
So actor Wally Cox, who weighs 178 pounds, was curled up in one of them!
The other contained 178 pounds of lead for counter balance.
In old or new math, that's 356 pounds.
The way it looked in the scene Peter Lupus could have been a feather duster salesman on his way to work with his sample cases.
The way 28-year-old Lupus looks, on or off-screen, is big and trim—6-4, 220 pounds with a chest measurement of 50 inches above a 33-inch waist. He's Willie Armitage, the strongman in the group of secret agents assigned to those impossible missions and he isn't kidding.
He literally picked up Wally Cox plus 178 other pounds.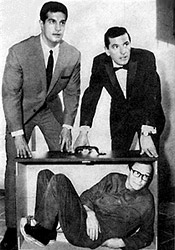 He's a body building enthusiast who works out in a gym after work every day, snacks on health foods between scenes, spends $100 a month on vitamins and food supplements and who has been "Mr. Indianapolis," "Mr. Galaxy" in the movie Muscle Beach Party and "Mr. Hercules" in an Italian movie about the strongman.
Managing a gymnasium in Hollywood paid for his acting lessons. In the gym he learned from customers Steve McQueen, Clint Eastwood and others "that for physical roles actors now realize they must look the part as well as give a good performance."
From Lurene Tuttle, his drama coach, he says he learned the secret of acting. "She taught me," he says, "to stay in your own truth—to be truthful even while taking a chance on being bad."
His "Mr. Hercules" role in the Italian movie won him four other strongman leads in Spaghetti Land where he says the people appreciate physical fitness more than Americans.
"But it was funny," he reports, "While working in those films people—including the film crewmen—started to actually believe my fictional feats of strength."

All graphics, photos & text are copyright 2006-present The Peter Lupus Shrine and are for exclusive use on this website.