---
I N T R O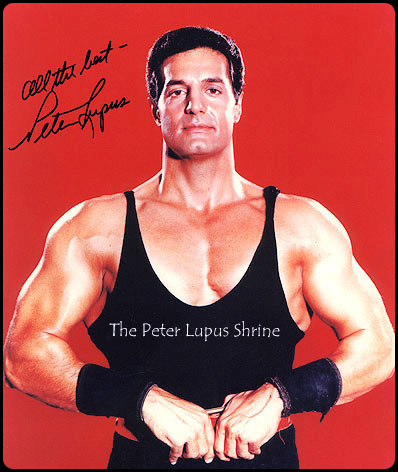 Welcome to the Peter Lupus Shrine, a small page paying tribute to one of my all-time favorite muscle men of the '60s and early '70s.
Peter was born in 1932 and first began appearing in film in the early '60s by playing muscle-bound types in such programs as The Jack Benny Show and The Joey Bishop Show. He assumed the name Rock Stevens when he appeared in a series of Italian gladiator movies such as Hercules and the Tyrants of Babylon as well as one of his biggest claims to fame, the 1964 teen romp Muscle Beach Party. That same year he had a bit part in the Tony Randall/Barbara Eden/Burl Ives flick The Brass Bottle.
In 1966, Peter joined the cast of the new sophisticated CBS spy series Mission Impossible playing weapons expert Willie Armitage. Lupus, who at his most muscular, boasted a massive 53-inch chest, says he sacrificed some size so that the character would appear more accessible and less intimidating. Other cast members came and went but Lupus stayed with the show until it went off the air for good in 1973.
After that, he became a sex symbol when he apppeared as one of the first male centerfolds in the debut issue of Playgirl. He spent the rest of the '70s making TV talk and game show appearances, usually giving fitness advice and beauty tips.
In the 1980's Peter continued to make guest appearances on network TV shows such as Fantasy Island and CHiPs as well as the short-lived Police Squad series starring Leslie Nielsen. He also kept busy appearing in feature films such as Police Academy and the aerobics turkey called Pulsebeat. For the complete listing of Peter's film and TV credits click HERE.
I hope you enjoy the collection of Peter Lupus pics and screen caps I have posted here for your enjoyment! Email me with any questions, comments or feedback.
All graphics, photos & text are copyright 2006-present The Peter Lupus Shrine and are for exclusive use on this website.