---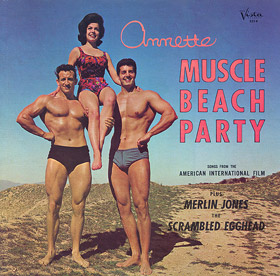 Up until 1964, Peter Lupus was probably most well-known as "Rock Stevens," having appeared mostly in Italian sword-and-sandal epics such as Hercules and the Tyrants of Babylon, as well as making the occasional guest appearance on TV in such fare as The Jack Benny Program and The Joey Bishop Show.
Aside from Mission Impossible, one of Peter's most memorable roles was that of Flex Martian, the crowning jewel in Don Rickles' stable of muscle boys who appeared in 1964's Muscle Beach Party.
The film was a typical beach-party romp directed by William Asher that starred Frankie Avalon and Annette Funicello as teen-age lovers whose lives are disrupted when the rich Luciana Paluzzi appears and sets her sights on Frankie after she gets bored with Peter.
Peter makes a memorable entrance as the camera intoduces him by slowly and provocatively panning up and down his entire oiled and pumped bod.

To view a video clip of Peter's big scene from Muscle Beach Party click HERE
All graphics, photos & text are copyright 2006-present The Peter Lupus Shrine and are for exclusive use on this website.