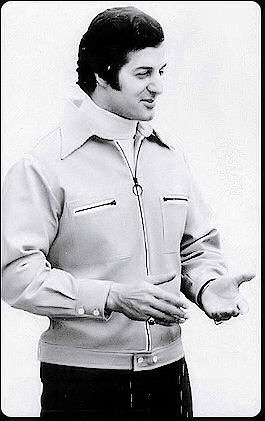 Peter Lupus of Mission Impossible has just completed his own personal mission—posing in the buff for the centrefold of the magazine "Playgirl."
"I never thought I would pose in the nude," he told me. "But women have become so liberated and sophisticated in the past year that I think the market is right for this kind of magazine. That's why I decided to do it. I don't think it can hurt me, nor is it going to alter my career at all."
It is often difficult to find stunt men to match Peter's powerful build, so he often does his own stunt work. "The only problem is insurance," he says. "With a film costing around 40,000 dollars a day to shoot, they can't afford to lose you. I remember on Muscle Beach Party with Frankie Avalon, there was a helicopter shot where I had to be swung out from the beach onto a yacht. They tried it with stunt men hanging from the helicopter at 80 feet, but the straps showed. So I offered to do it myself. The director said yes provided I did it on the first day or the last—if I got killed the first day they could replace me, and on the last it wouldn't matter!"
Peter spent two years in Italy making five films. He was under contract to American International Pictures at the time. He recalls a Goliath role where instead of using cardboard boulders they used real ones: "One landed on my back and it felt as though were ribs were going through my stomach. They did so many of these Herculean-type pictures that they began to think you were Hercules."
Fortunately Peter escaped to the relative sanity of Mission Impossible back in America where he spent eight very happy years playing the role of Willie Armitage in the series.
Peter spends a lot of time making personal appearances in Los Angeles, particularly on the Dinah's Place show where he shares tips on physical fitness.


To check out Big Pete from a 1973 "Mission: Impossible" clip go HERE

All graphics, photos & text are copyright 2006-present The Peter Lupus Shrine and are for exclusive use on this website.