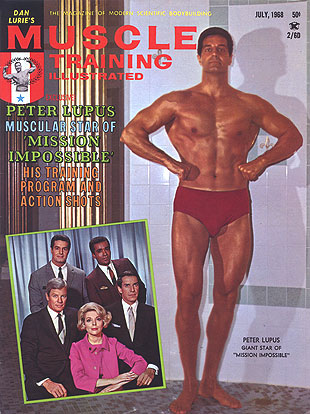 EDITOR'S NOTE:
When the muscle movie boom in Europe petered out several years ago, most of the bodybuilders went the way of Steve Reeves, retiring from the screen, although with considerably less money. Of those muscle men who have stayed with acting, only two have achieved notable success; Brad Harris, who is involved in European spy and adventure movies now; and Peter Lupus, co-star of the top CBS-TV show, "Mission: Impossible".
Big Pete, one of the best-liked, quietest and pleasantest muscle or movie men to be around in some time, has parlayed his impressive, title-winning physique, his acting ability and a long string of TV and screen credits into one of the most promising careers in Hollywood. An established regular on one of the biggest of TV's hit shows, Pete has a secure and highly promising career ahead of him.
How did he get to the eviable spot he's now in? Here's Pete to tell you, and our MTI interviewer, just how he...and you too, possibly can...hit the Hollywood heights.
OUR INQUIRING REPORTER GIVES BIG PETE THE THIRD DEGREE
Q: First of all, Pete, how are you?
A: Fine, just fine. Busy as the devil, of course, with the show, personal appearances, keeping up with my training, and working to improve my acting.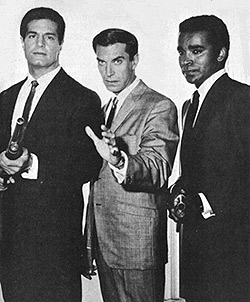 Q: How is the show doing?
A: Great...we were initially 17th in the 30-city Nielsons (Editor: They ranked 17th of all TV shows in a survey of the top 30 market cities in the U.S.). This is our second year, and we're not shooting for a four to five year run. Our new CBS time-slot, Sunday nights at 10-11, eastern time, has helped our ratings too, I think.
Q: And how is working on the show?
A: Really excellent. We all really work together well...Martin Landau, Barbara Bain, Greg Morris, new man Peter Graves...and I think if we didn't the show just couldn't go. They're so involved and complicated.
Peter Graves, who stepped into the show this season, is doing an excellent job in his role.
The main problem is the intricateness of the shows which makes them long and involved to film. We average 7 to 10 working days, two full weeks including weekends, to do a single week's show. Our 26 shows last year, took almost 10 months to film.
This is much longer than usual TV shows, and cuts down on personal appearances and the like. For me, it meant I had to turn down two Italian film offers. This year we hope to cut this time a bit, and I hope to do one European film during our summer hiatus.
It's gruelling work, but we've been rewarded with a hit show.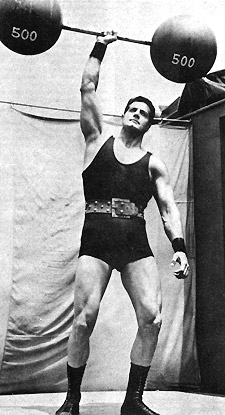 Q: You certainly look impressive on the show, with your height, size, thick powerful-looking neck and all. How's your weight these days?
A: Well, I weigh about 218, try to stay 218-200 at all times. At my height of 6 feet 4 inches, this is a bit light in bodybuilding terms but just right for the show.
This represents quite a weight loss for me. At the time of the "Goliath" movies I weighed 238, and my top bodybuilding weight was 252. I weighed 185 as a beginner, by the way.
Your comment about my neck is funny to me, for I've lost a lot of it...it's around 17 inches now.
Q: How did you get started in bodybuilding?
A: Well, in my native Indianapolis I engaged in a multitude of sports while I was at Butler University. I played basketball, football, and during the summers I was a lifeguard. The weight training just naturally developed.
When I started I weighed 185, as mentioned, and had 13-1/2 inch arms, which have since gone up to 18-1/2 inches.
I won the Mr. Indianapolis title, and Mr. Indiana, plus Mr. International Health and Mr. Hercules. The last one I'm particularly proud of, for I went through three elimination heats and won over a total of 100 contestants. It was in conjunction with the first Mr. Hercules picture with Steve Reeves.
Q: How did you get into the acting thing?
A: At Butler University I was studying to be a teacher, but then got interested in acting and switched over to radio-TV. I played in summer stock there for two years, did a wide variety of plays and parts, and when I graduated I came on out to California.
I knew Mickey Hargitay, who also came from Indianapolis, and Jayne Mansfield too, and they helped. It was a great shock and tragedy when she was killed.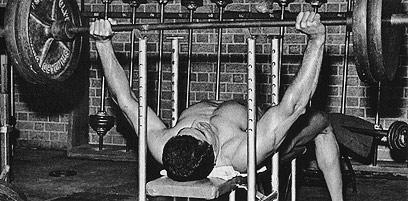 Q: Between the Mr. Hercules title and your big break in "Muscle Beach Party"...were you working much?
A: Yes, I had a long succession of minor parts in many TV shows. I was on the Jack Benny Show, Dobie Gillis, Danny Kaye Show, I'm Dickens, He's Fenster, the Red Skelton Show twice, and the Joey Bishop Show.
Q: How did you get the lead muscleman part in "Muscle Beach Party"?
A: I was very lucky. I was visiting my good friend Jody McRea on the set of one of his pictures when I was introduced to Mr. Nicholson of American International Pictures, and Jack Gillardi, an AIP casting man who's Annette Funicello's husband.
They remembered me, and six months later I got a call to try for the film. I made it on height, as well as muscle and acting ability, and it was an honor to work with bodybuilders like Larry Scott, Chet Yorton, Gene Shuey and the others. I enjoyed the picture a lot.
Q: You used the name "Rock Stevens" in that, didn't you?
A: Yes, there and in the Italian muscle pics I made after that. I did several Hercules-Goliath type of muscle movies, then a costume-pirate thing.
Muscle movies were starting to die off, so I came back to the States and invested in some gyms in the Midwest, turning down another Italian movie in the process. I went out to the coast to make the "Mission: Impossible" pilot, stuck tight for a while, and it all came through for me.
Q: How did you get the "Mission: Impossible" part as regular Willy Armitage?
A: Again, I was very lucky. The vice president of production at Desilu, which makes the series, is the first agent I had in California. He gave me a call. I was interviewed along with 70 other prospects, and I got the part.
Q: I'm sure acting ability and experience had more to do with it than luck, Pete, after all you beat out 70 other eager guys.
A: Thank you.
Q: Tell us about your training Pete, what are you doing now?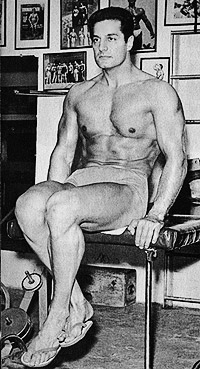 A: I've been training for 9-10 years now, and aim to keep it up another 30! Due to the time and show requirements, I now train for one hour, three times a week. I go basically for pump, handling no heavy weights at all. I try to maintain the status quo, feel good, and keep in top shape.
Because I use less weight but speed up my routine, resting little between sets, this means I don't have to work as hard to pump up.
I concentrate on doing one exercise per bodypart, with speed but in correct form. I try to work each and every bodypart hard. For my biceps, triceps and shoulders, I do 5 sets of 10 reps, pectoral, back and thighs, 3 sets of 10, to keep them trimmer; calves 3 sets of 20 to 30 reps; and for the abs, sets of 50 reps.
My favorite exercises are usually specialized movements for particular bodyparts. I train at Vince Gironda's Gym in Studio City, which is the real Mecca for the top bodybuilders, and they and Vince are a great bunch of guys. We were particularly glad to see Don Howorth take the Mr. America title this year...he really deserved it.
The reason for the specialized movements is, of course, Vince and his teachings. He's developed stars like Don, Larry Scott, Bill McArdle and many others. I'm just following their lead and using really effective exercises.
For the triceps, my favorites are Lat Machine Pushdowns, or the Lying Pushdowns done with a rope, 5 sets of 10.
Biceps, I do either Barbell Curls, Incline Dumbell Curls, or use the Scott Machine for Curls, again 5 sets of 10.
To develop the shoulders, I use either Laterals or Seated Presses on the special Press apparatus at Vince's, for 5 sets of 10 correct reps.
Pectorals...I prefer the Decline Laterals with Pulleys, a special rig at Vince's or the basic Bench Press, and I do 3 sets of 10. This is one area I have to keep trim for TV.
For the lats, I do Lat Machine Pulldowns or Chins, another 3 sets of 10, and the legs also get 3 sets of 10, either Machine Squats or Leg Extensions.
The calves I work for 3 sets of 20 to 30 on the Calf Machine, and I finish off sets of 50 doing Situps or Leg Thrusts, to keep my abdominals trim.
Q: What about your diet, Pete?
A: My main nutritional item is protein, which I take three times a day. It gives me a lot of energy in addition to keeping my muscular weight steady.
In addition to his I have one or two simple meals a day, usually consisting of broiled ground meat, plus cottage cheese and tomato or fruit. I especially watch my starch and sweets consumption, to keep my weight steady.
Of course I eat out from time to time. I prefer Japanese and Chinese foods, which are both tasty and nutritious.
Q: How is your personal role in "Mission: Impossible: coming along? It seems as if you're on more this year.
A: Yes, while last year there were some episodes I wasn't in, this year I'm a regular every week and also have more dialog. The studio got quite a bit of fan mail about me, so they have worked to beef up my part. It's more of a "straight" role now, with less emphasis on the pure muscle end of it. I enjoy the image change, and it allows more to be written into the script for me.
Q: What about the show's future?
A: We're in our second year now, and the studio sees about a four or five-year run. Beyond this would get to be a drag.
Q: What are your personal plans for the future?
A: First and foremost, stick with the show, of course and then I would like a series of my own. Some promising ideas might work out in this direction.
As I said, I had to turn down two European films due to lack of time this past season, but hope to do one on location in Europe this summer. Beyond this, I just want to work at learning the acting craft and doing a good job at it.
Q: What's your parting advice for would-be actor/bodybuilders?
A: Work hard, I guess, and make friends wherever you go. Train hard, work to understand acting and be truthful in your acting...be yourself. And keep plugging.
Q: That advice has certainly worked for you, Pete, making you one of the biggest physique acting stars around. Do you have any messages for Dan Lurie and Muscle Training Illustrated?
A: Thank you for your kind compliments and yes I do. Tell Dan I remember him from the Sealtest "Big Top" TV circus show as "muscle Dan". He used to tout Sealtest ice cream, and I ate an awful lot of it trying to get strong, when I was younger. And tell MTI to keep up the good work for bodybuilding. You've got a fine magazine.
Q: Thanks again, Pete, for sharing your time and comments with us, and you keep up the good work in Hollywood.
*Article from Muscle Training Illustrated, July 1968
All graphics, photos & text are copyright 2006-present The Peter Lupus Shrine and are for exclusive use on this website.